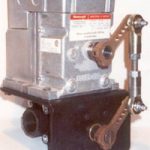 Developed specifically for use with high pressure steam boilers and deaerators
Featuring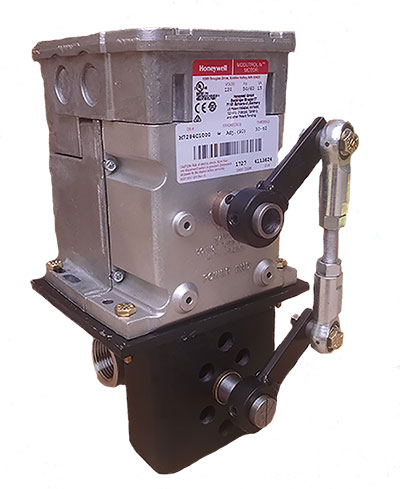 Worcester series 44 ball valves
Dependable industrial grade Honeywell actuators
Smooth 2-way flow
Tight shut-off
Advanced seat materials
Self cleaning seats
Long operating life
Fast delivery
Low pressure drop
Adjustable SPDT micro-cam switches
Proven technology
Competitive Pricing
Fast Delivery! 36 hour shipment usually available.
DEVELOPED BY BOILER PEOPLE FOR BOILER PEOPLE
Kelden Feedwater Valve was developed nearly 32 years ago. After many years of searching for a modulating feedwater valve that would shut-off and not "leak thru", we decided to design our own. We currently have several hundred of these valves in high pressure steam applications all over the country and they simply work great.
SPECIFICATIONS:
SIZES: ¾", 1", 1¼"
END CONNECTIONS: THREADED (NPT) OR FLANGED
MATERIAL: CARBON STEEL
TRIM: 316 S.S. BALL & STEM
SEATS: POLYFILL BODY
BODY SEAL: TFE COATED 316 S.S.
(OTHER MATERIALS AVAILABLE UPON REQUEST)
COMMAND SIGNALS:
PROPORTIONAL CONTROL (0-135OHM), "ON-OFF" CONTROL,
ELECTRIC PROPORTIONING CONTROL (4-20ma), PNEUMATIC CONTROL.
BODY RATING:
UP TO 1480 PSI AND 650ºF
VALVE SIZE
Cv
LENGTH OF SCHEDULE 40 PIPE FT.
3/4″
12
6.3
1"
32
3.1
1¼"
46
6.3
SIZING:
20 THRU 200 BHP
SIZE ¾"
225 THRU 800 BHP
SIZE 1″
850 THRU 1500 BHP
SIZE 1¼"
Kelden Equipment, Inc. also engineers, designs and offers custom burner control panels including state-of-the-art burner controls.